How to Prepare for a Multi-Day Stand Up Paddle Trip
There is nothing quite like landing your SUP on a beach or lakeshore, then making camp for the night in the wilderness. Being self-sufficient for several days on the water is a bit of a fine art, but once mastered it's great fun and allows you to reach remote and beautiful spots inaccessible overland.
But where do you begin? A two-day, one-night trip is a great way to break into adventuring. It gives you the chance to try out your equipment, a packing list and get a feel for a fully laden board. Also, if you forget anything essential, you only have one night to consider.


Packing for a multi-day SUP trip
When packing for a multi-day trip, a well-known acronym will stand you in good - MRS GREN. It covers the essential functions of life on earth. Pack with each of these in mind, and you'll be able to sustain yourself throughout the trip.
M is for Movement  
How will you travel from A to B? Is your board suitable for the job? A 10'0 all-round paddleboard is perfect for short paddles from the beach, but two days on it would be a struggle. Your board will also need to accommodate some heavy bags, so always check the suggested rider weight and ensure you, plus your bags, are within that range. 
The Red Voyager 12'6 is a great touring board. It's stable, has lots of attachment points, and the quality of construction means it will stand up to rapids, landings through the surf, and other challenging environments.
R is for Route
You need to have a solid plan which considers a proposed route, a means of wayfinding, and decision points along the way. Plan your route with a comfortable pace in mind. You won't enjoy the trip if it is too strenuous and you are battling against the clock or conditions. Likewise, if you are meandering along too slowly, you risk getting cold or simply losing the challenge element.
Make sure you have an OS Map and compass to aid navigation. You should also annotate your map with the times you expect to reach certain checkpoints. It's worth sending a picture of this to a trusted person before you paddle, so they can raise the alarm if you don't arrive as expected.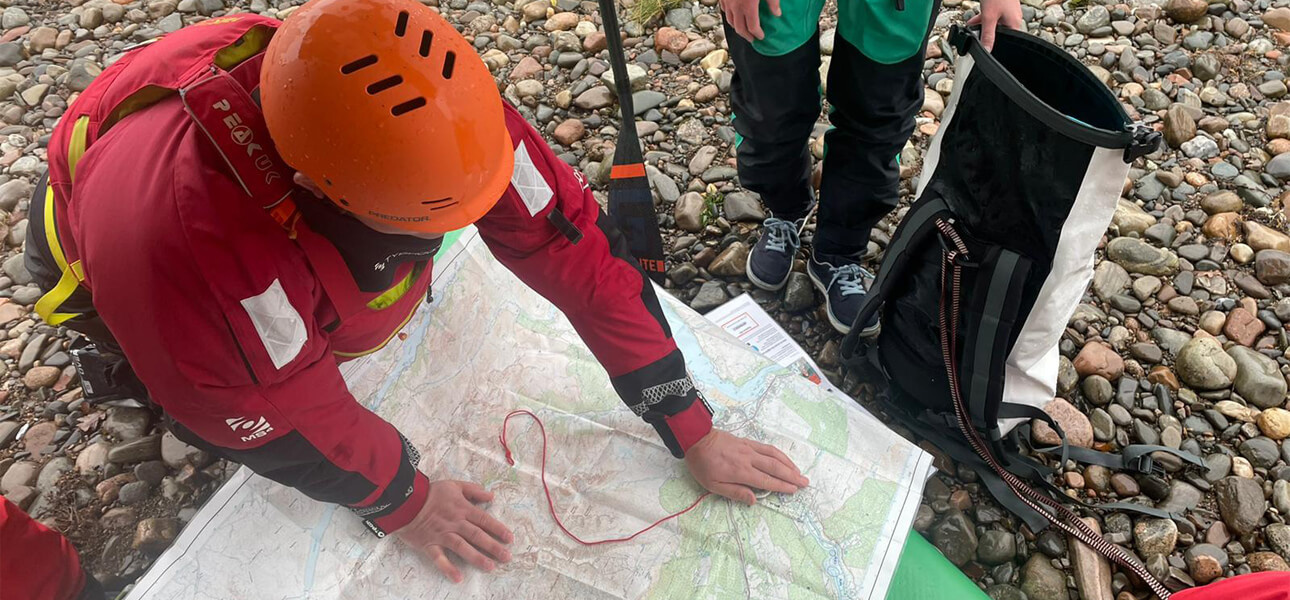 S is for Shelter/Sleep
At the end of the day, you will want to get out of your paddling clothes, rest and recuperate. You'll need some form of shelter. This could be a tent, or a hammock and tarp. Whatever you choose, ensure it offers you a reasonable degree of comfort as quality rest is essential. Pack some separate dry, warm layers to wear around camp and at night too. A compact fire pit is also a great way to warm your toes and dry any wet clothes ahead of the second day.
G is for Group
Think about who you are travelling with. Know their abilities and aims, and ensure the plan fits with those. Travelling with others also means you have the option to split some of the paddling equipment between you. Consider having a communal camp kitchen and sharing the load of carrying those supplies. This will ensure your board isn't laden with unnecessary extras.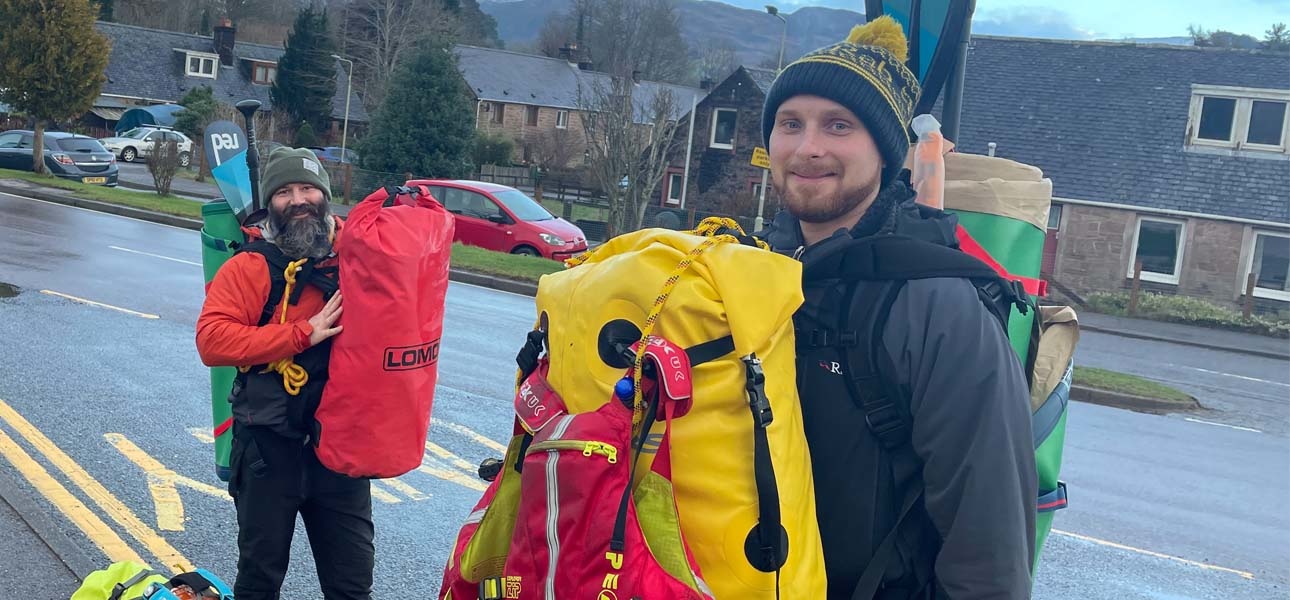 R is for Redundancy and Repairs
It's essential to prepare for every eventuality. You must have a few spares and repairs for your paddleboard. As a minimum - a spare fin, spare paddle, repair kit, and an extra pump. This means you can fix minor issues along the way. You also need to know how to use them.
E is for Excretion
You will need to pee and poo on your trip, and toilets are not always an option. Be mindful about your toileting habits, as the aim should always be to minimise environmental impact. If you need to pee, ensure you are 50m from any watercourse so you don't pollute your drinking water. It's worth setting up a communal toilet when building a camp that everyone agrees to use. Dig a trench (using a lightweight trowel) for excrement, pop a toilet roll on a stick and erect a tarp to provide privacy. Ensure everyone knows that toilet paper and feminine hygiene products must be bagged and carried out for safe disposal, not buried.
N is for Nutrition
Arguably the best part of any trip is consuming the 4000 calories you need daily to sustain your body. Plan your hydration and calorie intake carefully before you go. You'll need enough to cover your baseline metabolism (2000 kcal/day for a woman, 2500 kcal/day for a man), plus about 400-600 kcal/hour of relaxed-paced paddling. Remember, fresh foods will spoil if left in a warm/damp dry bag, so taking two days' worth of ham sandwiches will likely make you sick.
The best options for longer trips are dried foods prepared using boiling water. Instant oats and instant noodles are low-cost options, but for your main meal, splash out on a freeze-dried meal which is more nutritionally balanced. Real Turmat meals from Norway are our go-to choice.
Hydration is something you need to plan for. To stay hydrated, you'll need at least two litres per person per day, then about the same again for cooking. You may need to invest in water filtration, as carrying water adds a lot of weight. Don't forget to pack something to boil your water, especially if you're relying on boiling water to rehydrate foods.
5 Tips for Multi-Day Stand-Up Paddle Trip
It might sound like there's a lot to consider and remember, but the more you do it, the more instinctual it becomes. Remember, the success of your paddling trip is all in preparation. Our top five tips are:
Plan ahead
Make your packing list at least a week in advance. Then you can shop around for what you need to save money.
Make a comprehensive route plan
Draw out your route on a map. What checkpoints will you look for along the way? What time should you ideally arrive at each checkpoint? Figure this out and write it on your map. Send a copy to someone you trust in case of emergency.
Practice pack
Before the trip, have a little dry run of packing and unpacking your dry bags. This will ensure everything fits and help you decide the best packing order.
Work together to save weight
Try and share equipment with your paddling buddies, rather than doubling up. Redundancy is important, but do you really need six kettles? Everyone likes being self-sufficient, but treat the trip as a group effort, not a survival competition!
Be prepared for the worst and hope for the best
This is a great ethos in all outdoor pursuits. Imagine if you were stranded for an extra day in camp. Could you get by? What if your board is punctured? Could you carry on? You don't want your backup plan to be 999, so make sure you plan for the unexpected.